Hello there!
What if there was an advanced piece of technology that could store brew information, track fermentation progress and, upgrade your overall booze experience at home?
Will you take our word for it? You better!
Let us tell you all about the Plaato Airlock and its features!
Wireless Fermentation Monitor
Plaato Airlock Overview: What Is It & How Does It Work?
The Plaato Airlock is a brand new way of examining ongoing fermentations.
It is an advanced digital airlock that can constantly measure the flow of CO2 from a brew and converts it to information about:
Specific gravity
Fermentation activity
Alcohol percentage
Ambient temperature
The major fermentation results are alcohol (ethanol) and Carbon Dioxide (CO2).
The data is wired onto the Plaato app and keeps all the information non-invasive.
All data is cached for later, giving the brewer all the equipment needed to keep track of every detail of the different brews.
To keep consistent brews or make changes to a new batch of beer.
The Plaato app allows the user to connect more than one unit of their interface, like:
Estimated Specific Gravity
Monitor how the yeast works its way through the wort. How? It measures the exact amount of CO2 generated.
The specific gravity is estimated and sent to the app, allowing users to follow the process firsthand.
Fermentation Activity
The app also allows users to know about fermentation activity AT ANY GIVEN TIME.
Plaato Digital Airlock uses the bubbles produced from the fermentation to monitor the activity of the brew.
It precisely counts every bubble from the process and can be fully monitored.
The fermentation of 5 gallons of wort creates a hundred thousand uniform-sized bubbles.
The Plaato team started the entire procedure with the principle of original gravity and then managed a bunch of fermentation to develop the algorithm.
Ambient Temperature
The sensor of the Plaato Digital Airlock determines the right temperature needed for each brew.
The Plaato Airlock allows users to keep track of the encircling temperature of where the fermentor is located.
Knowing the correct temperature of the fermentor can be a lot of help for brewing later.
Analytics
The system is powered by a 6ft standard USB cable, requiring an AC/DC non-converter plug.
Provides and keeps data about the gravity, temp, and alcohol content.
The Plaato Digital Airlock also provides a time analysis that gives users detailed data about the complete fermentation procedure.
Having your own fermentation chamber can take this into account with a powered plug.
What Are Other Features From the Plaato Digital Airlock App?
These are the best features it offers its users!
3 indicator LEDs to show CO2 pressure
Digital temperature sensor
Non-invasive infrared sensors
Tritan® BPA-free high-grade plastics
Memory
Maximum brews volume 50
Waterproof and easy to wash
Shows OG or Plato, Celsius or Fahrenheit
These features already look appealing, especially for someone passionate about homebrewing and alcohol content.
Customer Reviews
Read some of these testimonials that could help you decide about buying the Plaato Airlock.
It starts with a customer stating how convenient it was for the application on the web to be free and available on iOS and Android.
The setup is intuitive and appealing to both techies and newbies.
It generates real interest in the procedure, allows tweaks to inversion to assist fermentation, and importantly, lets you know when it's over.
In Addition
The device provides a considerable amount of data that would be useful in replicating (i.e., clones or repeating a batch) or developing brews or beer.
It accurately and safely removes any doubt with what's happening in the fermenter and clearly shows when the foam is done.
The information updates rapidly, though not exactly during real-time.
But more on the upside, you can access the data about fermentations on whichever device your phone is connected to.
Before You Buy
You should know some reminders and warnings about the Plaato Airlock that the Plaato Team does not disclose.
The Plaato Airlock Device Is Sensitive
Regular airlocks are prone to this behavior in more extreme conditions like cold crashing, but the Plaato seems to be a bit more sensitive.
The Plaato Airlock Device Does Not Exactly Give Real-Time Analytics.
You can access the information on whichever device your phone is linked to, but those updates are not accurate in real-time.
But they do update rapidly.
The Plaato Airlock Device Has Potential
A customer said that the device seemed like it had potential.
Unfortunately, in their experience, it functioned unsuccessfully. But that does not take away its entire potential for homebrewing,
Just like all products, it works for some and not for others.
Alternatives
There are some alternatives to check out if Plaato's Airlock does not appeal to you.
We want to ensure that there are other options!
Tilt Hydrometer
Homebrewers' Choice
A tilt hydrometer is also an excellent choice for wanting to have control over your booze. It's a worthy investment because it instantly provides a gravity reading at any time you want.
Brix/Specific Gravity Refractometer w/ATC
Homebrewers Choice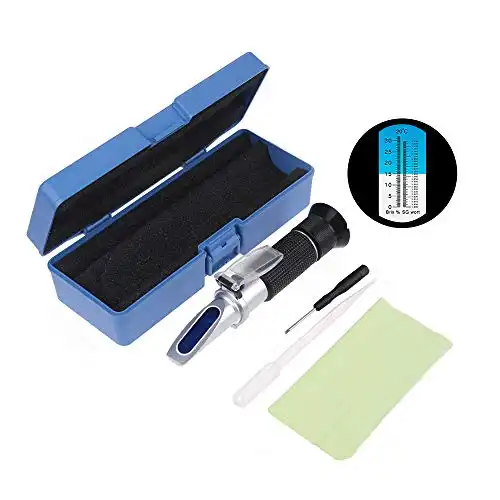 A refractometer finds the density of a solution in winemaking or booze fermenting.
Frequently Asked Questions (FAQs)
Here are some of the most frequently asked questions regarding the topic!
Can the Plaato Digital Airlock Device Examine the Number of Sugars?
Unfortunately, it cannot check the sugar quantity in the fermentation procedure.
The amount of sugar incorporated in the alcohol is not included in the fermentation-specific analytics.
Is It Necessary to Buy a Plaato Airlock for Homebrewing?
Depending on your preference and needs, it is mainly for storing brew information and booze replication.
How Much Does an Airlock Cost?
It RETAILS for $135.00. Yes, it does come at a hefty price, but it can be worth it.
Wireless Fermentation Monitor
Conclusion
So, do you think you're going to get yourself one of those Digital Airlocks?
We suggest that you purchase it to keep data and replicate your booze! However, you may opt for the alternatives if you won't. We hope you make whatever decision is best for your brewing requirements.
Plaato also offers this cool Keg Management System for keeping track of what's in your kegs after you have it fermented and ready for showing off to the neighborhood.
Nonetheless, cheers and enjoy future brews!
Lead marketer, brewer, dad, and husband. Pretty much an all-round awesome guy. I've been homebrewing for +20 yrs, an aspiring pro-brewer and micro brewery owner!