The Original Craft Beer Club Review: What, When, How (Much)
Want to get a sip of the finest craft beers but don't know which ones to try?
The Original Craft Beer Club might be just what you need!
Check out what the subscription service offers and how it fares.
What is The Original Craft Beer Club?
Like their name says, The Original Craft Beer Club is a craft beer subscription service.
When you sign up for a membership, they send a monthly shipment of carefully curated artisanal beers—right to your doorstep!
"Okay, but anyone can slap Artisanal on any old beer label."
The Original Craft Beer Club employs a RIGOROUS beer selection process to choose only the finest high-quality beers from independent craft brewers throughout the US.
No need to worry about wasting money on lackluster—or just plain bad—craft brews here!
Pros
Wide variety of craft beers. With beers selected from over 8,000 craft breweries across the US, you're sure to taste brews you might never have come across otherwise!
Expertly curated beer selections. The world of craft beers is BIG—and if you're a newbie, it's hard to know where to start. This way, you get the best sampling of all the different beer styles out there!
Convenience. For most people, it just isn't feasible to take a cross-country tour of independent craft breweries. Having the best brews delivered right to your doorstep is an easy way to get rid of your craft beer FOMO!
They support small breweries. The Original Craft Beer Club works ONLY with independent breweries that have limited reach and distribution. So not only do you get to sample world-class craft brews—but you also help over 8,000 small business owners to continue doing what they love.
Cons
US-brewed beers only. If you're looking to sample craft beers from around the world, this may not be the beer-of-the-month club for you.
Free shipping only applies to the contiguous US. If you live in Alaska or Hawaii, you'll have to pay shipping fees.
Not about keeping up with trends. While some other clubs may choose only the trendiest new beers, The Original Craft Beer Club picks the best-tasting brews, not just the newest ones.
You might not like EVERYTHING you receive. Like any variety pack, you'll probably like some beers better than others. But if you don't like something, you can ask for it not to be part of your shipments (more on this later).
The Original Beer Club Review: Features & Benefits
What's In The Box?
You get 12 or 24 (depending on your subscription) 12-oz. craft beers in each monthly shipment.
These come from 2 different featured breweries, which change every month.
You get four different styles, and three bottles (or cans) of each style, for a total of 12.
If you choose to receive 24 beers in each shipment, you get a 6-pack of each four featured styles.
Beer-of-the-Month
If you're looking to expand your palate, this is the BEER-OF-THE-MONTH club for you!
They include beer styles ranging from the common (e.g., lagers, pilsners, stouts) to the obscure (e.g., kvass, kölsch, gose).
Find something you like? You can contact the brewery directly to find out if they can ship to your location.
Each shipment also comes with a monthly newsletter, which has:
Information about each beer in that month's shipment
A brief history of each featured brewery of the month
Tasting notes for each beer
Food recommendations to pair with your beers, including two recipes for the true gourmet
Freebies
Sound good so far?
If you decide to sign up for a membership or give someone else a membership as a gift (again, more on this later), you'll get up to 3 FREEBIES in your first shipment!
Here's every gift you can get, depending on how many months you sign up for:
3-month plan: free bottle opener
6-month plan: free coasters + bottle opener
12-month plan: $30 discount + all 3 free gifts
Plus, each membership comes with a FREE 1-year subscription to the Beer Connoisseur e-magazine.
Subscription Info
One of the best things about The Original Craft Beer Club is your flexibility regarding your subscription.
You can choose whether you want 12 or 24 beers in each shipment. This is useful if, say, you're planning a party or game night and need extra refreshments.
You can also choose to receive a set number of shipments, OR you can select an ongoing subscription (for a minimum of two months).
You can choose how often you want to receive your craft beer shipments:
every month
every other month
quarterly
Finally, you can start your membership immediately or select a specific start date.
Gifting a Membership
Need a good gift for a beer enthusiast?
Why not give them a great gift of an Original Beer Craft Club membership?
Just like signing up for a personal subscription, you can pick a set number of shipments or an ongoing subscription, then have them delivered to your recipient's address.
Customer Service
Pro #1: the Original Beer Craft Club's customer service team is easy to reach. You can find them via phone, email, or live chat on their website.
Pro #2: they're ALSO known for being friendly and accommodating! You can easily request exclusions or swap out an order if you receive a brew you don't like. Plus, they can customize your order to come all in cans or all in bottles, if you prefer one or the other.
Pricing
And now, the all-important question when buying anything: "How much is it?"
The Original Craft Beer Club is one of the most affordable clubs at:
$44.75/month for 12 beers
$89.50/month for 24 beers
Either way, this amounts to about $3.70 per beer—AND the monthly newsletter, AND the free magazine subscription!
Plus, if you choose a 1-year plan right away, you get a discount of $30.
Another perk? Free shipping!
This is an advantage over other clubs, which often charge shipping and handling fees of at least $15. (However, free shipping only applies to the contiguous US, which excludes Alaska and Hawaii.)
The Original Craft Beer Club Review: Frequently Asked Questions
Who should join a craft beer club?
ONLY people 21 and up. Of course, you have to be of legal drinking age in the US.
Beer lovers with adventurous palates. Craft beer clubs are best for people who appreciate different beer styles and aren't afraid to try new things.
Craft beer newbies. Craft beer clubs are a beginner-friendly way to get started because they do all the work of picking the best brews, leaving you free to taste each one and develop your preferences.
I like [specific beer style]. Can I receive those instead?
The main objective of The Original Craft Beer Club is to offer variety.
So, if you want to receive more of a specific kind of beer, other beer clubs are more specialized, such as:
Hop-Heads Beer Club: This club focuses only on hop-centric beers. So if you're a fan of IPAs and other hoppy ales, you might want to check them out!
US Microbrewed Beer Club: Each month, they sample over 500 craft beers and select less than 20% for their shipments. Plus, you can reorder any brews that you especially enjoy.
Rare Beer Club: Each month, this club sends out two exclusive, high-quality 750-ml brews from all over the world—not just the US. If you're a grandmaster of craft beers, then this club is right up your alley!
Beer Drop: This club lets you choose the specific styles and types that you want to receive. If you want a fully customizable beer box, check out Beer Drop!
The Original Craft Beer Club Review: Customer Feedback
Ask around, and people will tell you all about The Original Craft Beer Club's wide selection and excellent service: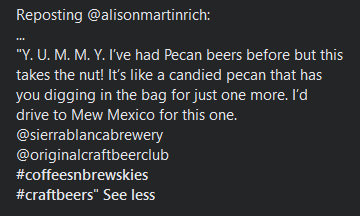 Conclusion
Whether you're an experienced craft beer drinker or a total newcomer, sometimes the variety of craft beers out there can get overwhelming.
The range of breweries alone can be dizzying, and that's not even counting how each brewery has a wide range of beer styles.
That's why The Original Craft Beer Club is a great way to sample the best craft breweries across the US.
With their careful selection process, flexible subscription options, and stellar customer service, you're sure to get your money's worth!